By empowering community members to collect data about gender & relational norms and develop positive campaigns to encourage healthy attitudes and behaviors, the Social Norms Seed Grant Initiative increases the capacity of the UC Berkeley community to prevent sexual harassment & relationship violence.
Annual grants of up to $3000 are available to campus communities to develop and evaluate the impact of a messaging campaign. Grantees join a year-long cohort and receive instruction and support from experts in the prevention of sexual harassment, relationship violence, & hazing at the PATH to Care Center & the Center for Support and Intervention. Read an overview of the Social Norms Approach.
Seed Grant Timeline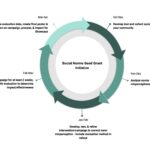 .  
Apply to the Grant Initiative to promote civility, respect, consent, and positive practices among your peers!
Important Dates
Applications are open August 29, 2023.
Applications due by September 27, 2023 at 11:59pm PT.
Award notifications by October 5, 2023.
In anticipation of receiving a grant, applicants should hold time on their calendars for the Required Grantee Orientation on Friday, October 13, 2023 at 9am-noon PT. 
Please thoroughly review the FAQs below or these grant instructions.
Social Norms Seed Grant FAQs
What is Social Norms Theory and marketing?

Social norms are the unwritten social behaviors, customs, beliefs, or attitudes that the majority of a specific population or community hold, and expect others to hold as well.

For example, imagine that you're walking up to an ATM to take out cash. Without thinking about it, you get in line behind someone, leaving an appropriate amount of space between you. You don't peek over their shoulder to see how much they are getting out, you probably don't say anything, and you don't hang around after you get your cash. You might cover the PIN pad, so others can't see your code. These behaviors may be driven by the understanding that people wish privacy for their financial transactions and not to feel threatened by theft, or may simply be ingrained.

How did you learn how to act at an ATM? You learned through social norms, which we learn from our culture, and from families, friends, communities, the media, school, and many other places. We often only notice social norms when someone is failing to practice them. For example, if a stranger in line behind you peeked over your shoulder at the ATM and asked how much you were taking out, you would likely think they were being strange and inappropriate; but you probably don't stop to notice all the times that doesn't happen.

Perceived norms are the social behaviors, customs, beliefs, or attitudes that individuals assume others in the community hold, even if they are inaccurate.

For example: undergraduate students at UC Berkeley believe that a majority of their classmates would not ask for verbal consent when being intimate with their partner, even if they are in a long-term relationship. (In the 2018 MyVoice survey, only 35% thought their peers were likely or extremely likely to do so.)

Actual norms are the social behaviors, customs, beliefs, or attitudes held by the majority of members of a community. 

In fact, 78% of undergraduate students at UC Berkeley reported that they are likely or extremely likely to ask for verbal consent when being intimate with their partner, even if they are in a long-term relationship. (2018 MyVoice survey)

Social Norms Marketing

Our perceptions of our peers' attitudes and behaviors have a great influence on our own attitudes and behaviors. Unfortunately, our perceptions are often inaccurate: We tend to:

over-estimate the number of our peers who value and make unhealthy choices
under-estimate the number who value and make healthy choices

Misperception of norms becomes important when we are trying to reduce sexual harassment, stalking, relationship & sexual violence.  We often misperceive the acceptability of certain behaviors among members of our community, and it impacts how likely we are to act on our own values and whether or not we intervene to stop the behavior from happening. 

If we believe the faculty in our department tolerate and even engage in sexist jokes, for example, we might be less likely to intervene when we hear a faculty member making a sexist comment to a graduate student. If we think that getting groped at big house parties is an expected part of attendance, we are less likely to ask for consent ourselves before touching someone.

The goal of the Social Norms Seed Grant Initiative is to empower communities to uncover normative misperceptions (when the perceived norm is different from the actual norm) and develop positive marketing campaigns to reduce the misperceptions and further encourage healthy attitudes and behaviors related to gender and interpersonal relationships.

Please read an Overview of the Social Norms Approach.
Any affiliate of UC Berkeley may apply for a seed grant: undergrads, graduate students, post-docs, researchers, represented and unrepresented staff, and faculty.

We strongly encourage grant teams to be more than 1 person.

Teams are capped at 4 people. 

An individual may not be listed on more than one proposal.

All grant team members must be affiliated with UC Berkeley and part of the same intact community: 

a formal or informal

group of people who share

interests, values, and/or experiences 

e.g.

: an academic department, a sports team, a lab, a staff organization, a student club, a first-year residential hall, a fraternity, faculty with a shared identity,

etc

.

Students and employees may serve on the same team 

e.g.:

3

student-athletes and 1 assistant coach of the same sport decide to apply for the grant and are listed on the application. If awarded the grant, all 4 members of the project team will be

actively

involved in the project.
What counts as a campaign?

The primary strategy to be used for this campaign is social norms marketing. Campaigns should:

Prevent sexual violence, stalking, dating/domestic violence, sexual harassment, and/or hazing by reinforcing healthy interpersonal values or gender norms.
Reduce misperceptions of norms by using existing or newly-collected data on your community's positive beliefs, attitudes, actual, or intended behaviors.
Use messaging and communication strategies tailored to your community.
Be directed at your own UCB community.

Campaigns may be communicated via posters, virtual reality, social media, conference slides, video, discussion events, or any other creative method.
Although the activities listed below can be important components to a comprehensive approach to addressing violence, they are NOT social norms change, and will not be funded. 

General SVSH awareness-raising or education events. E.g. infographics about rates of harm, Take Back the Night, In Her Shoes, Clothesline Project, etc.

Harm reduction & personal safety strategies. E.g. lighting, escorts/rides, rape whistles, mace/pepper spray, self-defense classes, safety apps, etc. 

Intervention or healing services such as counseling programs, support groups, resource guides, batterer intervention groups, etc. 

Policy or legislative advocacy/lobbying. No funds can be used to support political causes, candidates or organizations.

Additionally, campaigns aimed at communities outside of UC Berkeley are not within the scope of this grant. These funds are intended to change UCB campus culture.
How can grant funds be used when submitting a budget?

You may submit applications for funding up to $3,000. 

Up to $1,000 can be requested for data-collection, campaign development, and evaluation activities. E.g. incentives for completion of surveys or focus groups, meeting/event space, printing costs, equipment, software licenses, boosted social media ads, etc. 

New this year! Each team member working on the project may receive a one-time payment or gift card in appreciation for their time and effort ($500 for each member who is an undergrad or graduate student, $150 for each member who is an employee, with a maximum of $2,000 per team.)

Proposals with budgets larger than $3,000 should state how you will procure additional funds or what other sources you already have secured. Please specify what costs the other funding would cover in your application. 

This Initiative does not offer multi-year grants, it is one-time funding each cycle. Applicants may reapply in future years to expand upon previous proposals or develop new ones.
Where do I apply? What is the deadline?
What is the application review process?

Once your application is received, it will be reviewed by a committee. There may be some follow-up questions to your application; please respond to any requests for information within 1 business day for continued consideration. 

Up to 6 grants will be funded. Applicants will be notified of their status by October 5, 2023. 

How will applications be scored?

Does the proposed campaign support the goal of preventing sexual violence, dating/domestic violence, sexual harassment, stalking, and/or hazing in the UC Berkeley community? 

Is the intended audience for the campaign an intact UCB community represented by the grant team members?

Does the concept of the campaign align with that audience and is the

 strategy/media format appropriate to the message, audience, and resources available?

Is the campaign likely to have the intended impact and how measurable is it?

Does the application reflect the core tenets of social norms theory: use of local data, focus on positive/healthy attitudes or behaviors, address misperceptions about the attitudes or behaviors of peers?

Does the team have the capacity to carry out the proposal with the allotted amount of time and resources? 
If we are awarded funds, what are the required grant activities?

By accepting the grant award, you agree to the following commitments:

Attendance by all team members at 3

required

events (meal/refreshments will be provided)

Grant Orientation -

Friday, October 13, 2023 9am-noon PT

All Grantees Meeting -

Friday, January 26, 2024 12-1:30pm PT

Grant Showcase & presentations - Friday,

April 12, 2024 1-3pm PT

Technical assistance meetings to be scheduled by your team with grant managers

Trauma-informed data collection of your community's norms with the support and expertise provided by grant staff 

Evaluating your project with the support and expertise provided by grant staff

Submission of final report documenting data collection, campaign activities, evaluation results, and key findings/lessons learned by Friday,

April 5, 2024

Participation in a learning cohort with other grantees

Responsive communication with grant managers

Upload all grant deliverables in a designated bDrive folder 

Permission for PATH to Care Center and Center for Support & Intervention to use your materials developed as part of the grant for future campus campaigns

Provide regular feedback via evaluation about the Seed Grant Cohort experience
How will funds be disbursed?

The easiest method is to provide a chartstring for your department, organization, or club if you have one through UC Berkeley. If you represent an informal community you may ask an existing unit to serve as a fiscal sponsor.

Alternative disbursement methods will also be discussed at the required Grantee Orientation meeting on Friday, October 13, 2023 at 9-noon PT. 
Who should I contact if I have questions?

The PATH to Care Center & the Center for Support and Intervention collaborate to sponsor and manage the Social Norms Seed Grant Initiative. 

For questions, please email pathtocare@berkeley.edu and include Seed Grants in your subject line.