#weCARE
Data shows that most UCB undergraduate men want to intervene. There are many ways to get involved:
Share the campaign and tell your own stories about times you've spoken up or taken action to interrupt harmful behavior on social media @PATHtoCareUCB #WeCARE
Award a sticker or button to a student who has intervened. See this list of locations to find stickers and buttons.
Learn about the indirect and direct ways you can intervene at the Bears That Care page.
Request a workshop or consultation for your community or student organization.
Join our student advisory board or apply for a position as a peer educator or coordinator: Contact pathtocare@berkeley.edu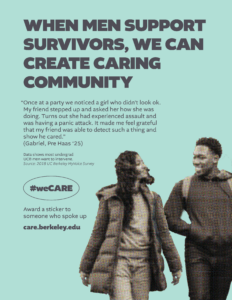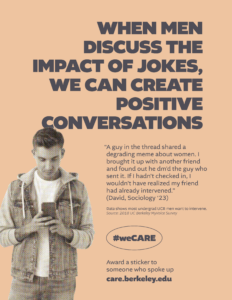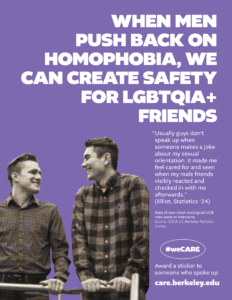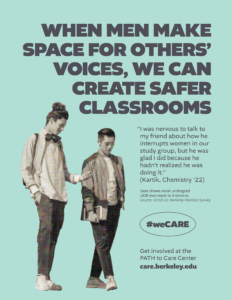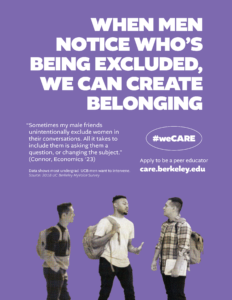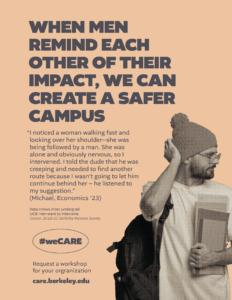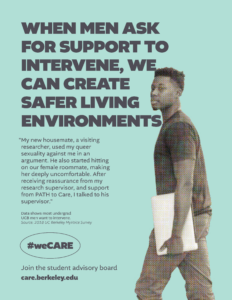 About Social Norms Campaigns
Social norms are the unwritten rules about how to behave, and most of us usually hold similar, healthy, positive views. But sometimes we think our peers hold different views based on a vocal minority that holds unhealthy attitudes. This misperception can make us less likely to act on our own values and beliefs.
Social norms campaigns use data from your own community to communicate the healthy attitudes of the majority, which encourages everyone to increase prosocial behavior. Read an overview of the Social Norms Approach.
Uplifting our values of respect, consent, and care for survivors is an important part of shifting the campus culture. The PATH to Care Center has led or contributed to a number of awareness and social norms campaigns.